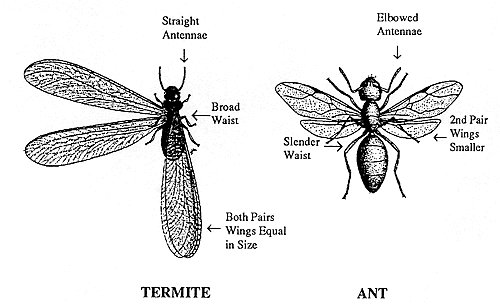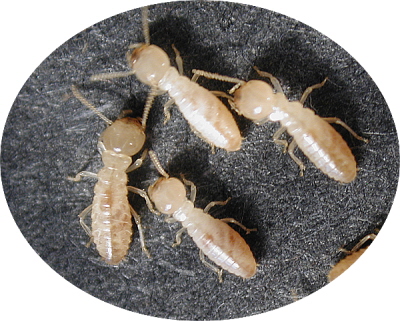 Termites are THE Most Serious Threat Your Home May Face!
No matter how your house is constructed, where it's located, or how old it is, it could be attacked by subterranean termites.  They are a threat across 70% of the world and in every part of the United States except Alaska.  They cause $2-3 billion worth of damage eaach year in the U.S. alone--damage that is not covered by most homeowner's insurance.  They are, in fact, the most serious threat your home may face.
Eastern Subterranean
MOST COMMON TERMITE IN NORTH AMERICA
Mature colony can contain from 20,000 to 5 million workers, averaging 300,000 (the queen will add 5,000 to 10,000 annually)
Feed on cellulose materials including wood, paper, cotton, etc.
Tell tale signs include dirt colony tunnels and shed wings
Average colony can consume 5 grams of wood per day
Can enter a building through cracks as small as 1/32" wide
A structure can contain multiple colonies
The Subterranean Termite Colony
The termites most likely to attack your house are subterranean termites.  There are several different species in the U.S.  The Eastern Subterranean Termite is the most dominant termite species in the Eastern half of the country, and is the most economically important termite in the U.S.  All are social insects that live in large, underground colonies.  Although they could number in the millions, you might never see them or any evidence of them--until you discover that they've don't serious damage to your home.
King and Queen:  At least one king and queen are at the center of every termite colony.  The queen's sole purpose is to reproduce. Some live as long as 30 years.
Eggs:  Queens can lay thousands of eggs every year.  Eggs hatch into nymphs.
Nymphs:  While in the nymph state, termites diverge into different castes: workers, soliders, reproductives, and supplementary reproductives.
Workers:  Workers are blind, wingless termites that maintain the colony, build and repair the nest and tubes, forage for food, and care for other termites.  They are the most numerous caste and the most likely to be found in infested wood.
Soldiers:  Soldiers are sterile, wingless, and blind.  Their sole function is to defend the colony.
Winged Reproductives:  These termites will eventually leave the colony as adult Swamers.  After swarming, they shed their wings adn pair up.  Each male-female pair attempts to start a new colony.
Supplementary Reproductives:  These termites help increase the population of established colonies and can serve as replacements for the king or queen if they should die.
How do Termites get in?
Once termites have discovered your house, they will search it for food--wood fiber.  They will squeeze through cracks as narrow as the thickness of a sheet of paper.  Expansion joints, foundation cracks, tiny gaps around plumbing, and electrical service entries are all opportunities for termites to enter your home.  In homes with basements, they can enter where the floors and walls meet, and through smalls openings in the walls themselves.
Look For Signs
Termites often leave some evidence of their presence.  Look for small holes in wood, crumbling drywall, or sagging doors or floors.  Insects wings are another sign, as termites shed their wings when they swarm.  Look also for the shelter tubes termites build to serve as their passageways across masonry or along pipes. 
Keep in mind though, just because you don't see any termites or termite damage, that doesn't necessarily mean they're not there.  That's why it's important to have a professional inspection of your home to ensure it's termite free.
Termite facts
Termites have been around since the days of the dinosaur!
Termite colonies eat around the clock, 24 hours a day, seven days a week!
Termites shed their wings once they find a good place to build a nest
Subterranean termites need contact with the soil to survive.  They live in underground colonies or in wet areas above ground
Termites can destroy building foundations, wooden support beams, plastic plumbing pipes, sub-flooring, insulation, swimming pool liners and filtration systems.  They can also destroy living trees and shrubs.
The question is often asked as to how many years are required before a newly constructed building will show signs of a termite infestation.  If a colony is started by a pair of subterranean termite swarmers at the time of construction, at least 3 or 4 years are required before even a few swarmers will be produced.  Evidence of damage may take longer.  However; if the structure is built over or close to a strong existing colony of termites, hundreds of swarmers may appear within a year.  Also, in this latter situation, substantial damage might be noticed within a year.
The total weight of all the termites in the world is more than the weight of all the humans in the world.